Chester Legends - Ian Rush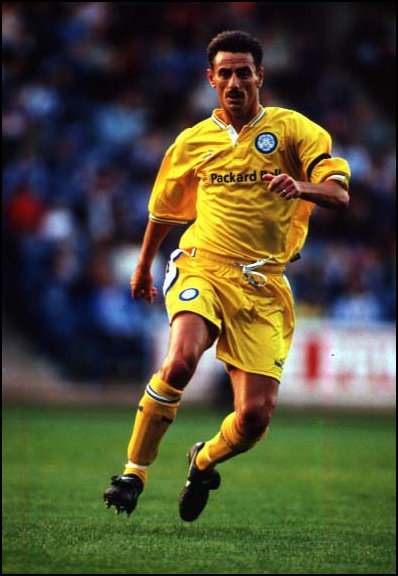 Surely a player any Chester fan would choose in there all time eleven, Ian Rush's departure from Sealand Road for Anfield was a relatively quiet one. He went to Liverpool as an 18 year old in the summer of 1980, but had certainly got himself noticed by the end of the 1980-81 season. His debut was against Oulon Palloseura of Finland in the successful European Cup campaign of that season, but many remember him from the 1981 League Cup Final replay against West Ham. Although he didn't score, his pace was breathtaking and he came very close on more than one occasion. The season ended on a high for Liverpool, and the Ian Rush legend was in the making.
Rush's first Wembley goal came in the following season's League Cup Final, this time against Spurs. It also saw his first Championship (he was to win five in all), and the beginnings of perhaps the most prolific striking partnership in British football - Rush and Dalglish. How could defences cope with the mastery and trickery of Dalglish, combined with the ruthlessness of the predator Rush. In truth, they rarely did, allowing Rush to go on to score an incredible 345 goals in a Liverpool shirt in a massive 649 appearances.
It would be hard to pick out the highlights of such a career, there are so many. How could anyone forget the sheer weight of goals scored in the early years? The dramatic return to Anfield in 1988, a transfer coup to rank with the best of them? Or the 1989 Cup Final where Rush came of the bench to score twice and win us the Cup? Best of all perhaps, the 1986 Cup Final, the first Mersey Final. Outplayed for much of the first half, Grobelaar almost coming to blows with his defence, only for Rush to come good in the second half to destroy the team he supported as a boy. The double goes to Anfield for the first time, Everton pipped to the post twice, and the second best goalscorer of the 1980s having to settle for a Wembley goal and a runners-up medal.
What was the appeal of Ian Rush? It was his modesty, his incredible workrate (the first line of defence), his desire to play football, a desire that ironically led to his departure from Liverpool to Leeds in the summer of 1996. It simply wasn't enough for Ian Rush to sit on the bench and pick up his wages at the end of the week. He wanted to play first team football, to feel the buzz on a Saturday afternoon in front of seething crowds, to do what he did best.
On one of the coldest nights of the season in February 1997 Ian Rush came home. It wasn't the homecoming we'd all hoped for - Rush was only a second half substitute, but the reception was fantastic (as it had been earlier in the season at Elland road) and like the predator he was Rush was desperate to score. Despite Leeds being 3-0 down by the time he came on he fought like we'd seen him fight for so long before, never giving up, never admitting defeat. How many at Anfield would have denied him a consolation goal on that cold night at Anfield?
Ian Rush's Career Fact File
BORN: St Asaph 20.10.1961.
TRANSFER FEES: £300,000 (from Chester City, April 1980); £2,800,000 (from Juventus, August 1988).
GAMES: 615 (29).
GOALS: 335.
HONOURS: Division One 81/2, 82/3, 83/4, 85/6, 89/90; European Cup 83/4; FA Cup 85/6, 88/9, 91/2; League Cup 80/1, 81/2, 82/3, 83/4, 94/5; Wales Schools, Under-21, 73 Full Caps.
CLUBS: Chester City 78/9 - 79/80, Liverpool 80/81 - 86/87 - Juventus 87/8, Liverpool 88/89 - 95-96 - Leeds United 96/97 - Newcastle United 97/98

These pages are owned by Robert Ashcroft.