Memorable Matches
FA Cup 3rd Round
Manchester United 2, Chester 1
Saturday 9th January 1965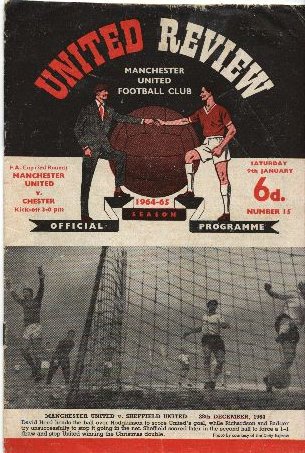 REEVES ROCKS UNITED


Two players dominated ths rousing, so typical FA Cup thriller - Chester's goalkeeper hero, Dennis Reeves and Bobby Charlton, the one united forward to live up to his reputation in this David and Goliath clash.

Reeves was magnificent. Charlton, whose vintage scheming show virtually put United into the Fourth Round. Forget the scoreline, It does not tell the story of this match ... a point which the gallant Reeves would readilly concede.

United should have won far more convincingly. Had it not been for Reeves and his gallant colleagues they would have done so. Chester, of course, had the inspiration of a ninth-minute shock lead.

And what a beautifully taken goal it was as Jimmy Humes threw himself at a Hugh Ryden corner. Their jubilation was understandable as the ball fairly whistled into the corner of the net.

There the score stood for 50 minutes. In between Reeves covered himself in mud and glory.

United's chance taking did not match their outfield work. Too often they were in a hurry ... and played into the hands of Chester's well drilled defence.

How different it was in the second half. United began to play more like themselves. Charlton saw to that. His superb ball control and searing runs put the skids under Chester. And, of course, it was his flighted pass which brought the long-awaited equaliser in the 59th minute.

That pass dropped at the feet of the unmarked George Best and from the inside left position, the little winger turned and rammed it into the net to put United on the vistory trail.

Three minutes later, debutant Albert Kinsley, who had seemed a trifle out of his depth, got the winner from close range after a long, searching cross from the left had bounced luckily his way off the outstretched foot of left back Malcolm Starkey.

It seemed all over bar the shouting. But salute gallant chester. They were far from finished and it took a fine peice of work by Charlton, in his own penalty area, to get United out of trouble, eight minutes from the end.

With only seconds left another do-or-die save by big Bill Foulkes prevented an almost certain equaliser when Gary Talbot all but met a pass from Mike Metcalf.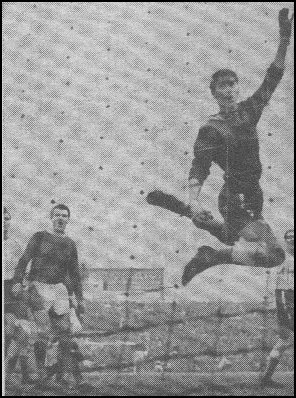 Chester keeper Dennis Reeves tips a shot from
Manchester United's Bobby Charlton over the bar.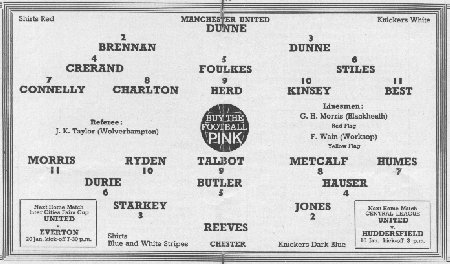 The Team line up

These pages are owned by Robert Ashcroft.